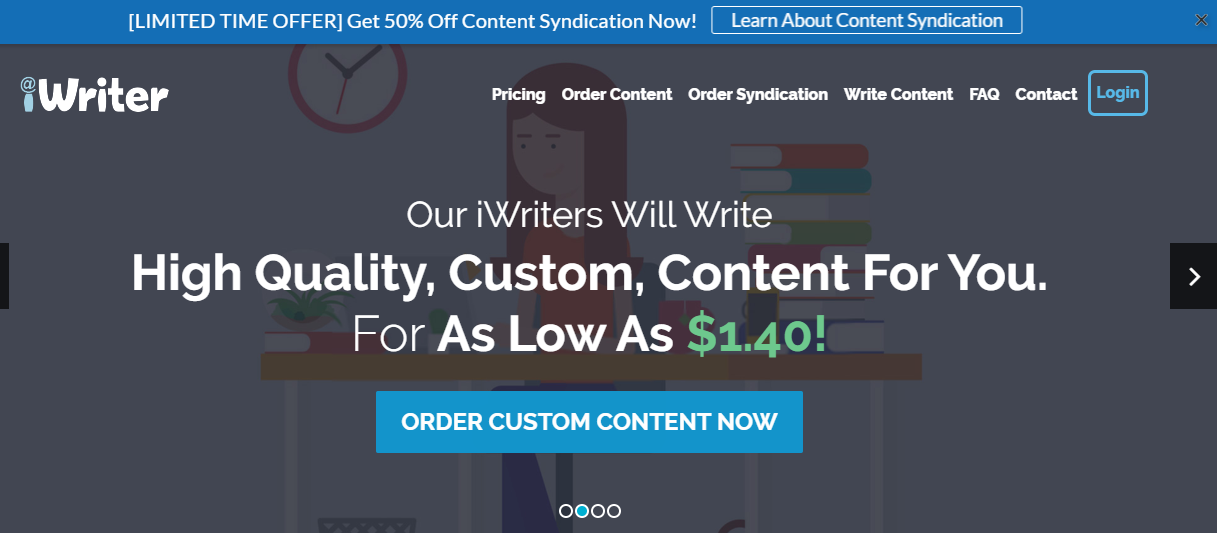 iWriter is one of the recommendable platforms if you are looking to get paid for content projects or when you are looking to order articles. As a website owner, having high-quality content is key to growing your business, and the consistency of uploading content also plays a significant role.
With this in mind, we have complied an iWriter review to help you decide if the site is worth your time. In this review, you will find the specific benefits of the site and its shortcomings. All in all, you will get crucial insights that will guide you on how to transact with iWriter and place article request.
iWriter Explained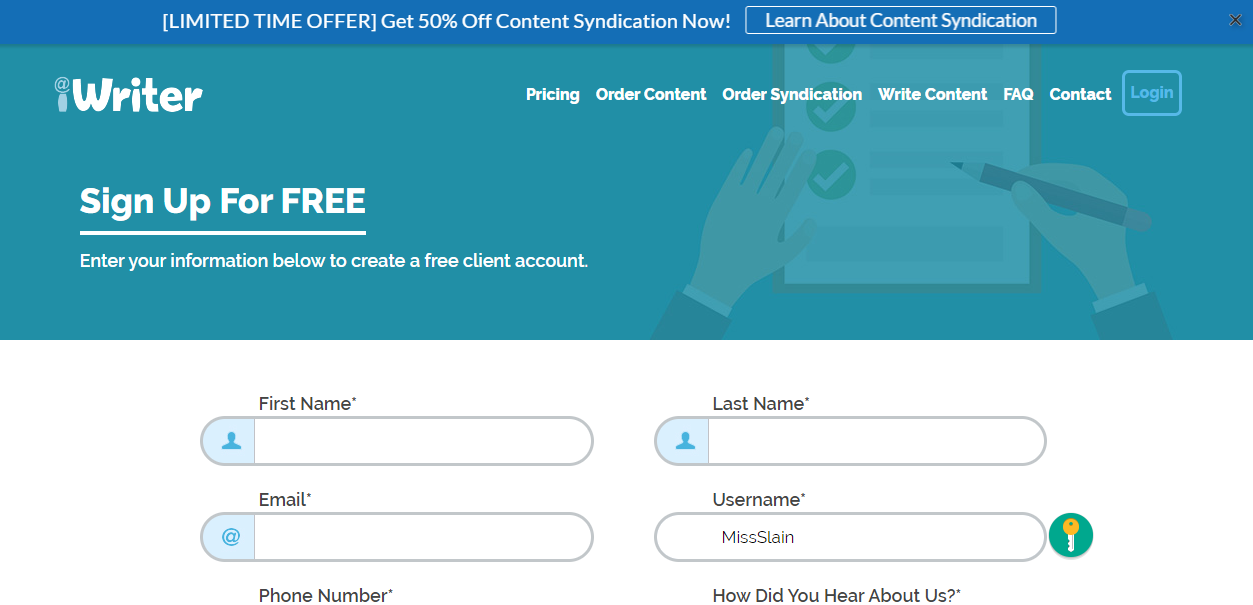 So, what is iWriter? In simple terms, you can define it as a content mill. If you are recently looking for information to include in a blog or website, here is where to order articles. All you have to do is provide the specific details of the content you want to be written, and expert writers on iWriter will start writing and commit to writing articles as requested. And you only need to make the payment when you are satisfied with the results.
iWriter has specific rules, including word count, where you can make an article request between 300 to 1000 words only. If you order articles or just a single article, make sure you list the keywords from which the content will be developed. For example, keywords can include "how to play poker" or "tips on cooking chops." This will help your premium writer develop content that will help your page rank better.

Do not be deceived into holding the opinion that iWriter is a preserve for buyers alone. If you are looking for a part-time job to make an extra coin, this is worth your time. It is such a flexible site where you can spare some time away from your regular schedule and have a few articles written. You can also make it a full-time job if your passion lies in writing because there are thousands of jobs posted per day.
You can start writing as a basic writer and progress to become a premium writer, and elite writer as long as you write articles that meet your clients' requested format and word count.  As you gain more star rating, experience, and positive clients' comments, you will manage to rank among premium writers where you will write articles with higher prices.
Merits of iWriter
There are various iWriter reviews from both clients and writers' experiences that you can find online. However, in this iWriter review, we highlight both the advantages and drawbacks of placing an article request on this platform.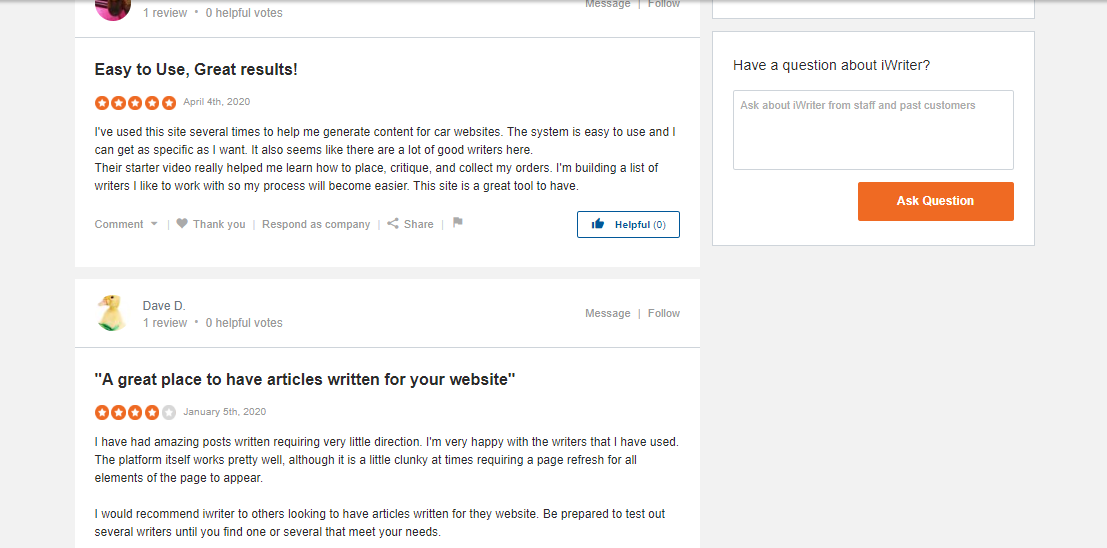 Classes of Writers on iWriter
iWriter has a unique set of good writers. You will find the most experienced writers and those that are least qualified. Credit must be given to the site because it nurtures budding writers, unlike most companies that are focused only on writers with longstanding expertise. This attribute provides iWriter the latitude to accept work from across the board, whether the articles written are inadequate or are of high paying. The prices of the customer will determine the level of writers to be allocated to write articles.
Safety and Guarantees
For users who are visiting iWriter for the first time, you will be asked to fill some slots with personal data, including names, email address, among others. You should be free to give out the details because the site guarantees safety for customers through its privacy policy. You will also be required to include your financial information to ensure a smooth transaction. There is no problem with providing such information since your details are fully encrypted.
Pricing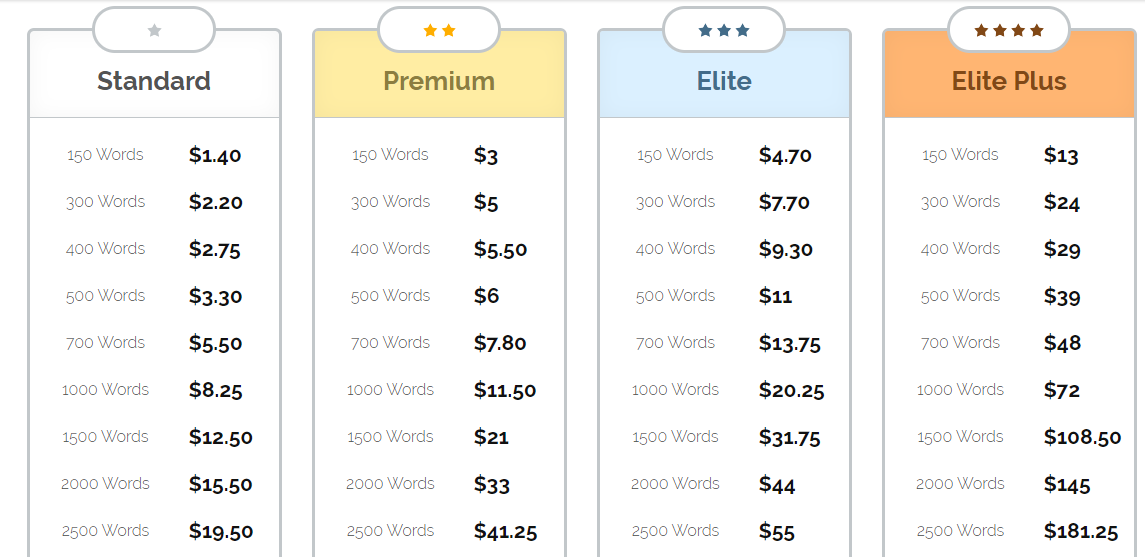 The prices charged at sites like iWriters are determined by the client asking for a writing service. However, compared to other platforms, if you purchase articles, prices are maintained average, basing on the nature of content that you need. If you want high-quality content written by most experienced tutors, you definitely have to dig your pockets deeper. The table below represents a breakdown of the pricing and categories that you need to know before you write articles:
| | | | |
| --- | --- | --- | --- |
| Number of words | Basic writer | Premium writer | Elite writer |
| 500 | $3 | $5.50 | $10 |
| 500 (rewrite) | – | $4.67 | $8.50 |
| 2000 | $14 | $30 | $40 |
| 7000 (20 page) eBook | – | $160 | $210 |
| 35000 (100 page) eBook | – | $790 | $1050 |
Value for Money
Many websites' owners would love to derive value for their money when they purchase articles. With iWriter' good writers, you are guaranteed of value because you have the option to spare your money if the content written is below per. Besides, you don't have to break the bank to purchase articles, because even the cost of hiring elite writers on iWriter is within your limit.
Simple Usability
If you have never used a site like iWriter or have used a similar writing service provider, there is a 2-minute tutorial video that guides you on how to navigate the website. Even better, the interface is quite easy, so you have nothing to worry about. There is only one shortcoming about readability because a writer is required to type keywords in each line as you write articles requested. Thus, even good writers might end up stuffing the keywords which will compromise the quality of a single article. With this problem, the article requested might be rejected, and the premium writer might end up with a negative star rating comment.
Scalability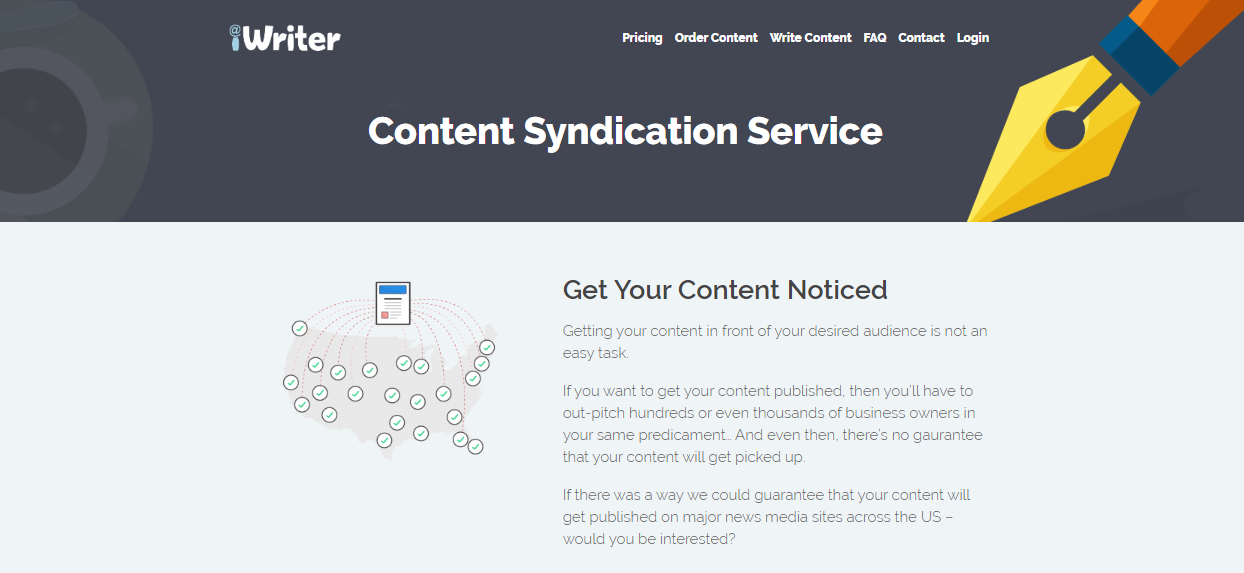 This site is only suitable for short snippets of content, meaning it is not a replacement for the in-house content creators. This site is appropriate for scaling, only if you spend a lot of time working with it. The reason is that you can groom your writers on iWriter to understand the content that you prefer and the writing service projects that you are interested in. Nevertheless, you must be patient to build this kind of relationship, which is attainable with good writers.
Content Quality
Sometimes the quality you receive from iWriter may not be satisfactory. For you to get articles written consistently with decent quality, we recommend checking out writers on iWriter who have top star rating reviews and positive feedback, and you won't regret it.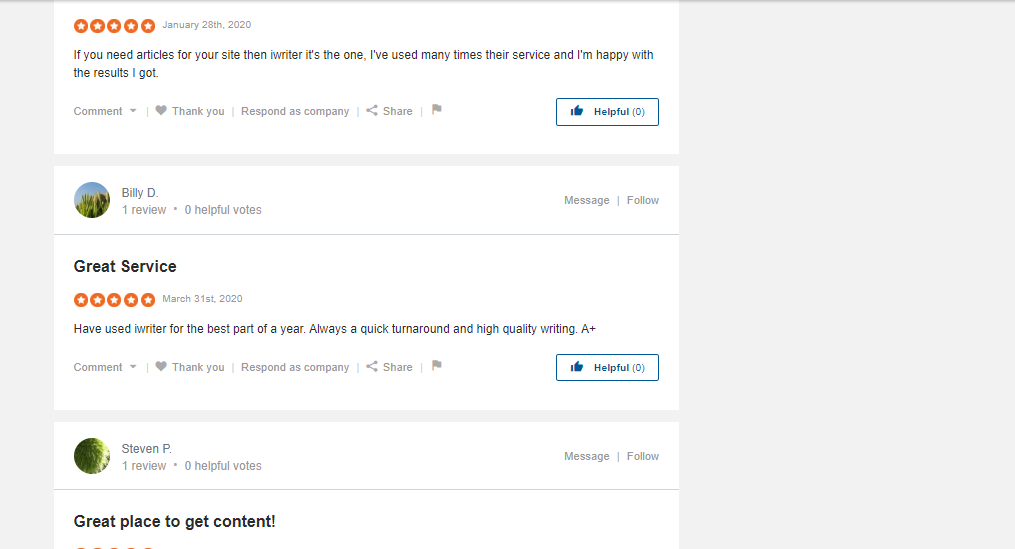 If you are looking for great content written involving snippets of information about product reviews and descriptions, iWriter is worth your time. The site also gives you a fantastic writing service if you need a full article, not more than 1000 words. Unlike similar sites, iWriter offers you an opportunity to read through the work before you remit your money for it. Essentially, this implies that you can decline to pay the work if you feel the specific writer did not do an excellent job on your projects. Thus, you will not be charged for any rejected content.
Prompt Delivery
This is a unique feature of iWriter writing service, which you should take advantage of. The articles written are delivered within short periods. For instance, you will only wait for 3 hours to receive a single article of 500 words. For longer ones, you will not go beyond 6 hours, which is worth your time. Once a tutor accepts to provide writing service, the timer on the portal will begin to count the time until the deadline.
There are longer articles written, including eBooks, that may take weeks to complete. You can see the remaining time if you are working on a single article. This reminder on the portal has always facilitated prompt deliveries of projects.
Customer Support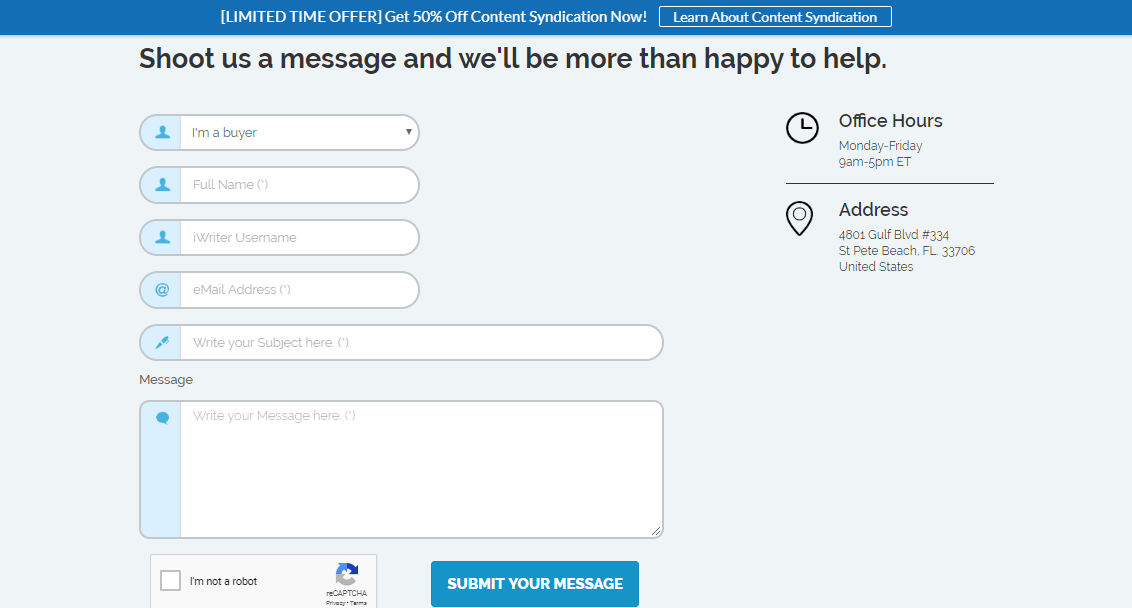 There are some negative iWriter reviews where many users are complaining about the systems poor feedback system of the writing service. However, there is some good about the site because you will at least get some responses; however slow they may be.
In some instances, users can get quick answers through the live chat system on the portal. If you have any queries about the process of signing up, or if you need to order articles from writers on iWriter, you can link with the customer support through live chat.
Advantages and Disadvantages
Points for
Points against

Source of income if you are looking to start writing
Average pay
A regular flow of work upon signup
A good history of prompt payments to writers
Clients choose how much to pay from a list of options
The choice to decline payment for content written poorly
A variety of payment systems

Writers may be underpaid because of the low rates offered by clients
Even good content can end up being rejected
Inconsistency in the quality of content
With low rates, the site does not attract the best writers in the industry
Final Word
From this iWriter review, there are some critical areas this good writing services provider has failed. Some of them include quality and prices. If you want to start writing on this platform, you better complement this venture with another job because the platform is not so sustainable. Besides, be ready to receive an equal share of positive and negative comments. It is also possible that some of your best projects might end up being rejected, and some buyers won't give you a good star rating.
However, this does not mean that you can't get great and long term clients on this platform. As a matter of fact, some writers' comments on iWriter review show that there are some writers that have met interesting clients on this platform.
On the other hand, if you are looking to order articles, iWriter has a selection of elite writers who are seasoned and from whom you can request top-quality content written with keywords in mind. If you need to purchase articles, just be fair, and do not make unreasonable demands.