Ultius writing service started its journey way back in 2010 to provide academic writing services to struggling students and employees all around the world. While there are a lot of essay writing services present around the globe that employ freelancers to write papers, Ultius company differentiates from them as it only uses American writers.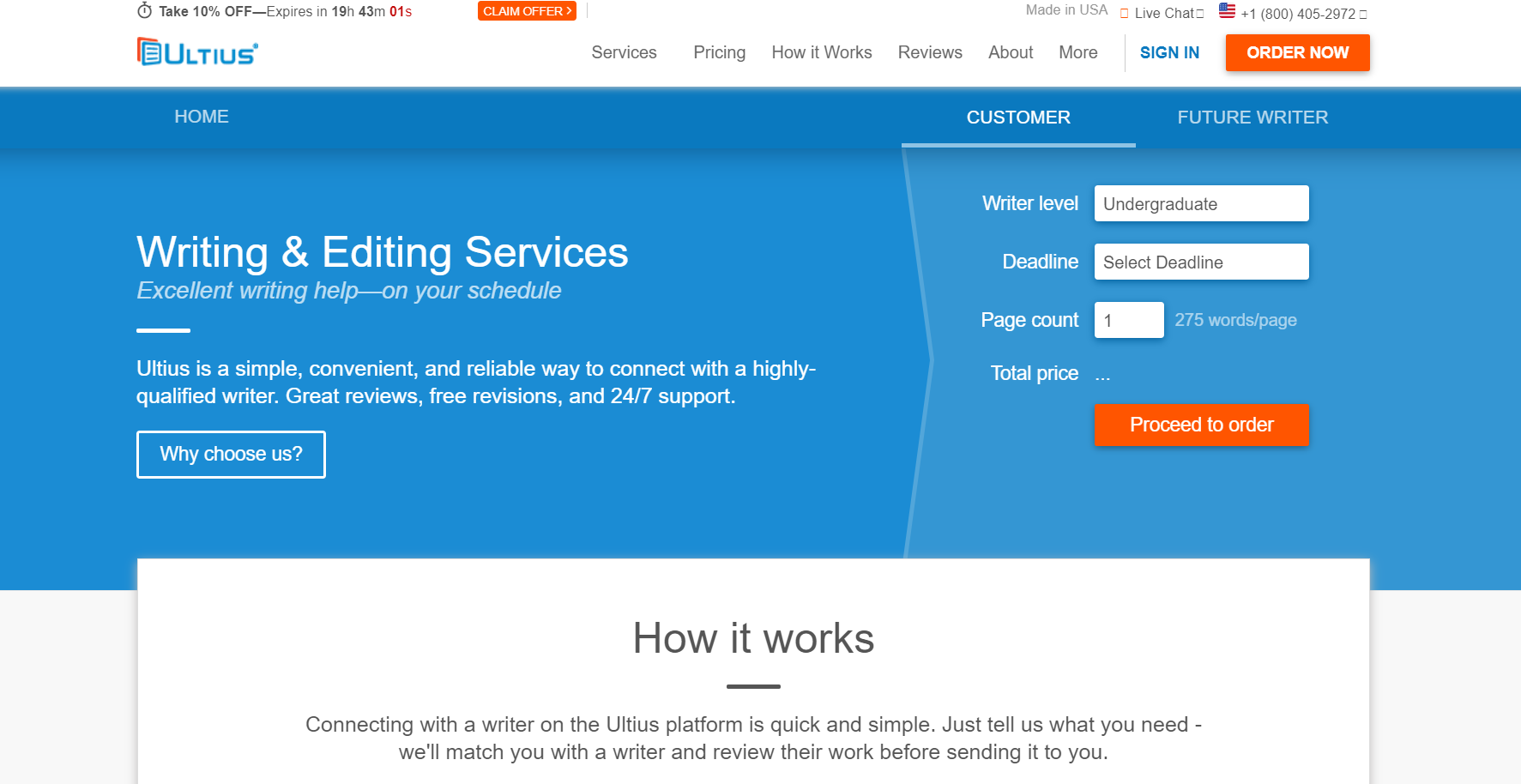 Initially, Ultius.com was one of the very few websites that recognized the importance of an authentic website for students to get their assignments completed. So lets find out more about that company.
Types of Services
Ultius is a paper writing service that ensures a quality experience for customers. The basic services they provide can be broken down into three main categories
Business writing
Academic paper writing
Editing
Each of these has further divisions. In academic essays, you get articles from categories of research papers, book reviews, term papers, movie critique, grant proposals, etc. However, Ultius.com fails to provide top services for case studies, admission essays, and business plans; for such services, you may have to acquire help from other websites.
There is a general list of services on the home page, and it can be accessed easily by merely scrolling downwards.
Ultius Rates of Paper
It is a common perception in the market that the custom writing services Ultius website provides are costly. By reviewing the cost of a single page essay within a time limit, I concluded that the general perception is not a rumor.

A task written on the website in 7 days costs about 17 dollars. Other websites do similar tasks and cost you way less. Generally, for a single page essay, the prices range from 17 dollars to 80 dollars based on the time limit and add on top services Ultius.
The price list is mentioned very clearly for the customers. Like any other successful business, Ultius also provides multiple discounts offers, especially for its new customers. Although the fees are clear cut, and there are no hidden fees regarding the delivery of papers, here is no money back guarantee for cancellations.
Types of Papers
There are four qualities of Ultius paper. The content quality and detail of research differ according to the prices for different quality. The four variations are:
High school paper
Undergraduate
Masters
Doctoral
They claim that every paper, even the high school paper, is personally checked by an efficient editor. But there is no guarantee that the person creating the content on the backhand has any qualifications related to the subject matter that they so blatantly attempt to explain in the academic paper.
Even though they claim that they only hire American content writers to help their customers, but there is no guarantee that these writers themselves write that content or outsource it to someone else.
Feedback Services
The customer support service of Ultius is undoubtedly better than other websites of this sort. There are many ways to register a complaint to them if you feel violated, or the work delivered to you is not up to the mark and has issues like that of plagiarism. The work quality is high.
Ultius is a reputable & reliable academic writing & business writing company with good user ratings and few negative reviews. If you use Ultius, you can rest assured that you are not doing anything legally wrong. Their rates are a bit high, though, for an average student.
It is highly expected that your issue will be taken care of at their earliest convenience. They have support system that is available all around the clock to resolve any problems or inconvenience that occur regarding the service provided by them.
The online chat service requires basic information from you but does not ask the identity of the writer your task was assigned to. Secondly, their office address and phone numbers are mentioned on their social media for a personal confrontation.
Is ultius.com legit?
Want to know about Ultius reputation? Ultius has a neutral reputation & rating online. There are several positive Ultius reviews from users online, but still quite a lot of complaints.
There are a lot of guarantees offered by Ultius for its customers. Ultius claims that all of its writers are purely American and that no other person of any nationality can qualify to become a part of their team.
The prices offered by Ultius are displayed clearly in front of the customer, so there is not fraudulent activity there in terms of extra pricing. Also, if you are not satisfied with the task done by their writer, they provide a seven-day free revision service so that your assignment can be reviewed, or you can reclaim your money.
Another one of their guarantees is that their customer support is available 24/7 around the clock to help solve any inquiry or doubt from the customer's side. However, feedback from users says otherwise.

Payment Options
There are multiple payment options available to get your task done by one of the writers from this website. The most common method is PayPal, but other options are valid as well, like Visa and Master card. Although there are various scams online, Ultius is not a scam.
The payment has to be made in advance. You get a full or partial refund if you can prove that there is legitimate plagiarism in the article. Whatever payment option you choose, it is certified that your information will be kept private with its 256-bit encryption system.
Final Verdict
Ultius is definitively leading the market as a legit and legal provider of freelance writing without discrimination even though the service has acquired legality by explaining that their site only provides essay for reference and research. I hope that my Ultius review helps you in deciding whether to order from them or not.
They claim that their writers are from USA. On the other hand, their prices often get extremely out of hand; for a single master quality paper, they charge as much as 85 dollars, and to tell the truth, most students cannot afford this rate.
You can visit Ultius.com to know more. Now that there is a lot of competition in the market, there are other websites where you can acquire quality work in a lower price range.